Wedding and Event Caricatures
Get caricatures for your next event. Leave your guests laughing and enjoying themselves with professional caricatures in a variety of styles.
Traditional and Digital Caricatures
Traditional paper caricatures are drawn on 110 lb. 11 x 17 paper with permanent markers. Digital caricatures are drawn on a tablet and printed on quick-drying photo paper. The caricatures come out super sleek, clean and colorful. Multiple prints can be made on the spot.
Your caricature paper can be customized with your wedding, event or company logo at no additional cost.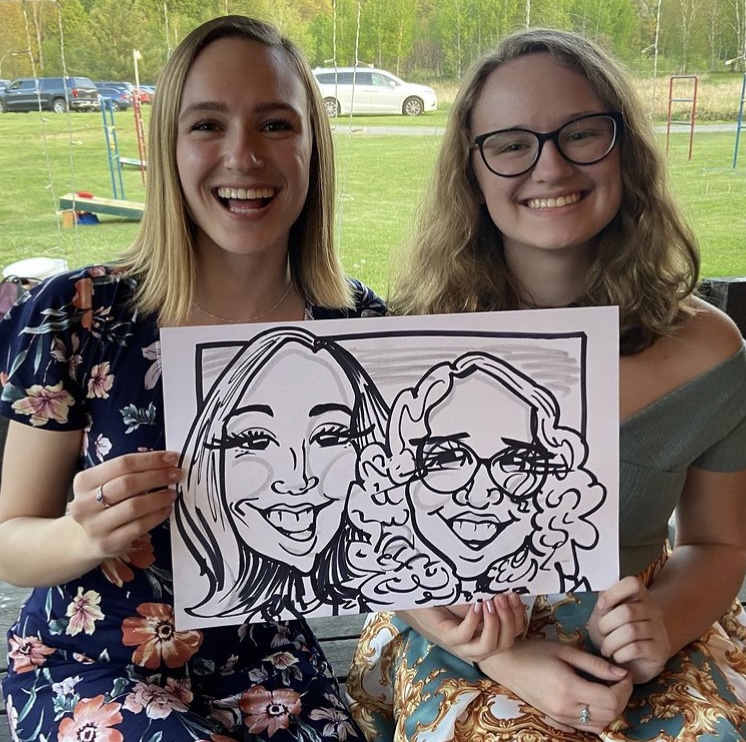 Color Caricatures

$500/hr
.50/mile (Midwest). Contact us for additional information on travel fees.
Artist provides a drawing table. The venue is responsible for providing the chair(s).
The artists will bring their own paper and markers. Ask us about customizing the paper with your wedding or company logo.
"Wow, Jason thank you so much. You didn't have to do that. I want you to know it brought both, my wife and I to tears. Merry Christmas. You have an amazing gift and I hope you know how much joy it brought my whole wedding party, my wife, myself and I can assure you, our friends as well. Thanks again. I will always be a customer."
"Jason is the best! He not only has the gift of drawing & painting people but has the gift of capturing each & every persons personality in his art! If you are looking for art that comes to life each & every time you look at it & share it then you need not look any further! Jason Anhorn is your artist!"
"From the State Fair to Dan Patch day! I have the story of our life in Jason's pictures!"
"I just received your caricature today and it looks amazing! I can't wait to give it as a gift this Friday!"
"We just received your caricaturist drawing today and wanted to say "Thank You!" The drawing looks really great and we are extremely excited to hang it up in the facility. We appreciate you taking the time to do this and the fact that you did it so quickly!"
"My fiancé and I had a caricature drawn by you at the state fair this past summer, and we both love it, and we would very much like to hire you for our wedding!"